Cancun Airport Transfers | Cancun Transportation | Cancun Transfers | Cancun Limo
Today's Forecast , Cancun QRoo.

USA/CAN Toll Free: 1-888-644-7803 - Mexico Toll Free: 01-800-837-1358 - Other countries: +52 (998) 886-8295

Wedding, Conference, Event & Group Discounts
CancunAirport-Transportation.Com is the one-stop shop for group and convention transportation needs!
As Cancun International Airport official share-ride service, we provide dependable airport transfers for more than 600,000 guests each year. Our Fleet and limo division offers top-notch car service to the airport or anywhere, and our charter coaches are the perfect size for group transfers, corporate events and excursions for the clients ! .
No matter what your event or occasion are, Graduation, Birthday, Wedding Ceremony, Reception and any others, CancunAirport-Transportation.Com provide a uniquely glamorous experience transportation service. We can go deep discount for your group! Your attendees, exhibitors and/or guests can enjoy low airport ride fare specials. Just contact us and tell us what we can do to make your event more memorable!
It's easy and convenient contact us using the following form , but if you need assistance and want to talk with one of our agents, call us toll free USA/CAN 1-877-854-8869. Our Reservation Center operates 24 hours a day, every day, so we're here if you need us! Thank you for choosing CancunAirport-Transportation.Com
The bus was amazing. All in all, it was a great trip thanks to the folks at Cancun Transfers."

Miles H.
Why choose "Cancun Transfers" for your group transfers?
Shuttles, luxury Suburbans, Limos and Vans that meets all your needs.
Our extensive fleet means maximum availability and flexibility.
We've serviced groups with our reliable, quality service for almost 30 years!
Groups rates and per person pricing options available.
Online booking for quick and easy group reservations.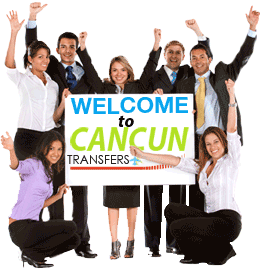 ---