Cancun Airport Transfers | Cancun Transportation | Cancun Transfers | Cancun Limo
Today's Forecast , Cancun QRoo.

USA/CAN Toll Free: 1-888-644-7803 - Mexico Toll Free: 01-800-837-1358 - Other countries: +52 (998) 886-8295

Travel Tips
Welcome to our Mexican Paradise! Where everything imaginable is at your fingertips!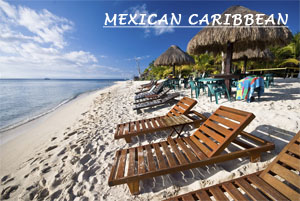 Quintana Roo, also called The Mexican Caribbean is a state of Mexico that is part of the Yucatan Peninsula, with a shoreline along the Caribbean that has grown into a major tourism destination and home of the majestic Mayan ruins. Cancun International Airport (the best in Latin America) because of its location, give quick and secure access to the Hotel Zone of Cancun and the beautiful Riviera Maya
Come and Enjoy the must spectacular sceneries like The incomparable Playa del Carmen Riviera Maya´s heart, an eclectic and seductive city that mixes the Mexican flair with a Caribbean ambiance, the beautiful beaches of Puerto Aventuras a secluded, charming district, and Akumal, small town south of the major resorts.
Live the magic of Xcaret an Eco-archaeological Park located about 46 mi south of Cancun and less than 4 mi south of Playa del Carmen; here you can admire tropical flora and fauna typical of the region as well as different expressions of the Mayan culture. In its facilities you can find an archaeological site, underground rivers, beach, butterfly pavilion, orchid greenhouse, regional fauna breeding farm, Mayan village, Jaguar Island, among others; immerse yourself in the beauty of Xel-ha an ecological theme park or natural aquarium, here you can swim with dolphins, see sea turtles, bicycle, snorkel, cliff-dive, and scuba. If you choose to scuba you will get to pet stingrays and see larger fish.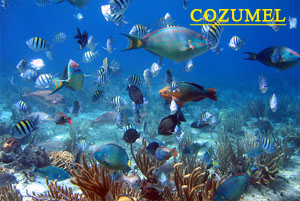 Play golf under the tree top sand across tropical landscapes where golf lovers can experience fairways lined with dark green grass that only "Paspalum" can provide.
Visit the fascinating ancient Maya archaeological sites like Tulum mostly known for its ruins, which strike an impressive image next to the sea and CHICHEN ITZA one of the 7 wonders of the world a unique and unforgettable experience.
Come and discover our beautiful Islands like Isla Mujeres, small cozy retreat close to Cancun, Cozumel, the Main Island and one of the longest coral reefs in the world, Holbox a tropical paradise out at the north of the Yucatan Peninsula in the state of Quintana Roo. For shopping lovers Cancun offers Spectacular malls and exclusive boutiques where due to the free zone as a "duty free zone ", the items from top international brands are offered at lower prices compeer to Europe and America. Here you can find from the most prestigious jewelries and perfume shops to art galleries and designer stores worldwide.
If you are looking for art crafts, cigars and liquor, downtown offers a variety of popular markets with items at incredible prices so you can experience the true flavors and colors of Mexico genuine hospitality. Cancun as well offers a great diversity of day and night entertainment for children and adults make your vacations enjoyable for you and your family.
La Fiesta (The Party) here never ends! In the Hotel Zone of Cancun there is a place for everyone, to the wildest night clubs to have fun and have a good time or more to relax with good jazz music and piano and of course our traditional Mariachi.
WELCOME TO MEXICO, WELCOME TO THE MEXICAN CARIBBEAN!
---