Cancun Airport Transfers | Cancun Transportation | Cancun Transfers | Cancun Limo
Today's Forecast , Cancun QRoo.

USA/CAN Toll Free: 1-888-644-7803 - Mexico Toll Free: 01-800-837-1358 - Other countries: +52 (998) 886-8295

Arrival and Departure Instructions
cancun-airporttransportation.com is your personal concierge that will take care of you all along your vacations; our qualified representatives are ready to welcome you right OUTSIDE your arrival terminal.
The day of your arrival we will be monitoring your flight all day, this way we will have your vehicle ready when you arrive. Please don't worry about delays, arriving early or any minor change, we will know exactly at what time you will be landing in Cancun and your vehicle will be ready. If your flight changes and you are arriving in a totally different flight at a totally different time, then please call our office toll free from the US and Canada at 1-888-644-7803 or from around the world at +52 998 898-4977 and let us know the new flight information, we will update your arrival and move your vehicle to the new time.
When you arrive to the airport in Cancun, first you are going to go through immigrations, do not forget to have all your documents in hand, and then you will be guided to the baggage claim area where you are going to wait for your luggage. Once you have your luggage, they you will proceed to customs. Customs procedures can take 5 minutes or 45 minutes depending on how many people are clearing customs before you or if your luggage is going to be inspected. The whole arrival procedure, immigrations, baggage claim and customs inspections, can take a long while, please don't worry, we know this and our representatives will wait for you as long as needed.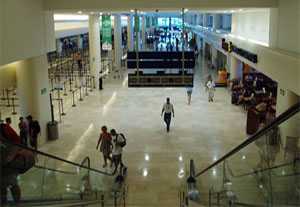 After you have cleared customs, please proceed to walk OUTSIDE your arrival terminal. - REMEMBER ALL THE WAY OUTSIDE – there you will look for our airport representative WITH A BIG SIGN WITH YOUR NAME. Once you have located our representative, just identify yourself, if necessary show him your confirmation email you received from us and he/she will take your vehicle which is going to take you to your hotel. If you reserved a ROUND TRIP SERVICE, then our representative at the airport will issue a voucher with departure instructions such as pick up times and our local contact numbers in case you need to make changes, also, one day before your departure we call at your Hotel to confirm your pick up time.
The pick up time will be scheduled by our office in Cancun according to your flight's departure we normally pick you up with plenty of time to get you to the airport 2 hrs prior to your departure.
Going to your hotel with cancun-airporttransportation.com is easy, straightforward and reliable. Our company just celebrated 25 years in service and we continue to set the bar for service and commitment to the most efficient transfer to your hotel. We are here to serve you and all of our services are 100% guaranteed. If you have any questions, please contact us at:
From the US & Canada TOLL FREE at 1-888-644-7803, From the rest of the world at +52 998 898-4977 (Main office Cancun) or by email at [email protected]
---
FOR YOUR CONVENIENCE WE HAVE REPRESENTATIVES AVAILABLE 24 HRS AT THE AIRPORT