Cancun Airport Transfers | Cancun Transportation | Cancun Transfers | Cancun Limo
Today's Forecast , Cancun QRoo.

USA/CAN Toll Free: 1-888-644-7803 - Mexico Toll Free: 01-800-837-1358 - Other countries: +52 (998) 886-8295


Hotel Transfers | Cancun Airport Transfers
Do you need ground transportation in Cancun from/to the Airport to your hotel in Cancun, Playa del Carmen or Riviera Maya?
---
* We have extensive insurance coverage for each of our passengers,Our units comply with the passenger capacity permitted by contract unit, Our units are equipped with speed control system in real time via satellite, The GPS system allows us to know the exact location of each of our units in real time, Personalized reception at the airport, Destination Information., Managing Groups, Professional and Bilingual drivers.
Our Fleet Models 2010-2011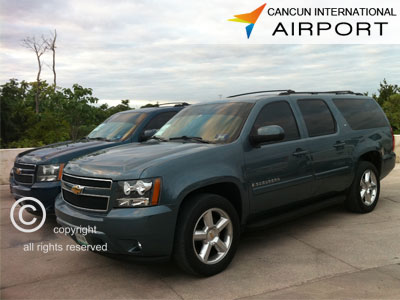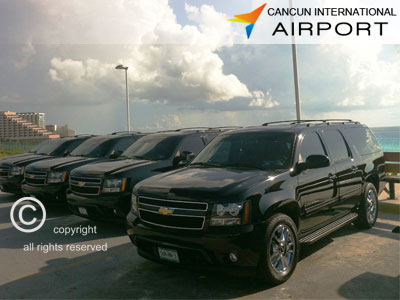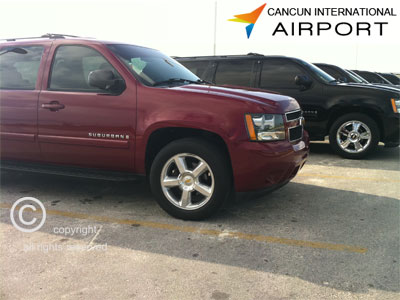 The beginning of the best vacation you ever going to have, starts with us at the Cancun Airport

There are a lot of Cancun Airport Transportation services out there, but there's only one that is authorized by the Cancun International Airport: cancun-airporttransportation.com/. With over 25 years in the business, "Cancun Transportation" is the longest running transfer service with the largest fleet and most qualified drivers. Create your perfect Cancun holiday and book in advance your transportation. Need a ride? Let Cancun-AirportTransfers.com take you! You can always depend on "Cancun Transportation" to get to your hotel quickly, safely, and inexpensively. So you can save your money and time for more important things, like sightseeing tours, activities and entertainment.
We have several representatives along International terminal areas. Just look for a member of our staff in a white/blue uniform (white shirt and blue pants) reading, "FERALTAR" or look for the sign with your name on it. Before you know it, you'll be off to your hotel in air-conditioned style.
IMPORTANT: Our entire fleet of vehicles is privately owned and our service is never sold off to a 3rd party like so many others online. We feel this is an important feature, knowing you are working with the actual company, not a broker who may appear online to be the actual service provider. Further, we NEVER sell ANY of the information you provide in making your reservation.