Cancun Airport Transfers | Cancun Transportation | Cancun Transfers | Cancun Limo
Today's Forecast , Cancun QRoo.

USA/CAN Toll Free: 1-888-644-7803 - Mexico Toll Free: 01-800-837-1358 - Other countries: +52 (998) 886-8295

VIP Transportation
Cancun International Airport | VIP Transportation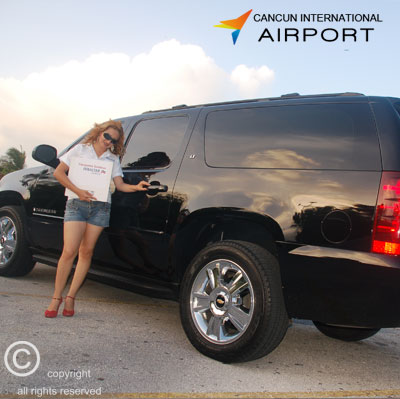 Definitely the holidays start coming home and what better than indulging their arrival, that is why this is the best choice for business or pleasure, the service consists of a luxury vehicle (suburban (SUVs) of the year, leather seats, DVD seat for baby guaranteed for up to 5 passengers) complimentary drink (water) wipes welcome bilingual operator available 24 hours a day and a very affordable price.
That's why the Cancun airport, concerned about their comfort and to provide the best service, hires only the best certified carriers that meet high quality standards in Cancun and Riviera Maya.
Indulge in this exclusive service, so that your arrival will be comfortable and your journey to your hotel will be even more making this an unforgettable experience.
To compare different transportation rates and make reservations Clic Here ( Hotel Transfers | Cancun Airport Transfers ), you will see a list of all transport services available for your destination.